Honourable Adviser
Lithuanian Chamber of Commerce in Ireland
AMBASSADOR OF IRELAND TO LITHUANIA 2010 - 2014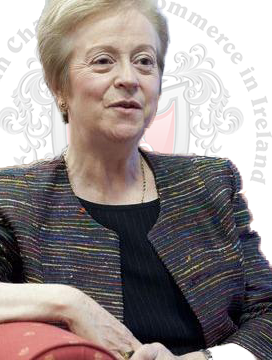 Philomena was born in Sligo but grew up in Omagh, Co. Tyrone.  She obtained a B.Sc. (Hons) in Modern Languages (French/German) from the University of Salford (UK) before entering the Department of Foreign Affairs as Third Secretary in 1974.   She later studied Law part-time, obtaining a Diploma in Legal Studies from The King's Inns, Dublin in 1990 followed by a Degree of Barrister-at-Law in 1992. 
Professional Experience
During 40 years' service in the Department of Foreign Affairs, she held a wide range of positions.  Her initial work experience was in the Middle East Affairs Section of the Political Division before being assigned to the Irish Embassy in Vienna.   
On promotion to First Secretary in 1978, she was appointed to the Development Cooperation Division, where she was responsible for Ireland's disaster relief assistance as well as bilateral & multilateral cooperation, including projects under the European Development Fund for African, Caribbean & Pacific countries (ACP).  She was subsequently posted to the Irish Embassy in Paris in 1981 as Trade Attaché before returning to the Department as Desk Officer for Disarmament and later as Desk Officer for African Affairs in the Political Division.  She was promoted to Counsellor in 1991, taking over as Director for African & Asian Affairs. In 2018 she became the Honorable adviser of Lithuanian Chamber of Commerce in Ireland.
In 1992, she became Director for Consular Affairs in the Corporate Services Administration Division before being posted in 1993 to the Irish Embassy in Washington DC with responsibility for Economic & Trade Affairs.   In 1997, she returned to the Department as Director in the Development Cooperation Division in charge of Ireland's emergency relief & assistance, as well as refugees, programmes in support of civil society, and the promotion and protection of human rights.
Appointed Deputy Permanent Representative to the United Nations in New York in 2000, she had oversight of all General Assembly matters, as well as direct responsibility for disarmament questions, Security Council reform and internal Mission personnel and resources management.  On return to headquarters, she served two years as Acting Head of the Cultural Affairs Division.
In 2006, she was appointed Ambassador to Argentina with separate accreditations to Bolivia, Chile, Paraguay and Uruguay.  She was appointed Ambassador to Lithuania and Belarus in 2010.
Philomena speaks English, French, German and Spanish.  She is moderately proficient in Lithuanian (reading/writing).
Since taking early retirement in 2014, she has volunteered with Frontline Defenders and with the Radharc Trust.  She has taken several audit courses at University College Dublin (UCD) as well as other life-long learning courses.  She is Director and Board chairperson of her apartment complex management company.   She is a Royal Dublin Society (RDS) member.  She continues her interest in the Lithuanian language.
lithuania@chamber.ie
More Honourable Advisers​
Served as Ambassador of Ireland to Finland and Lithuania & Belarus, and as Consul General, San Francisco. Established two Irish diplomatic missions, Lithuania and Zambia
Lithuanian Priest at St. Andrews Church in Dublin, Ireland. 2009 Priest Egidijus Arnašius was awarded the honorary sign of the Lithuanian Ministry of Foreign Affairs "The Millennium of the Millennium".