Ireland Exports By Country
This page displays a table with Ireland Exports By Country in U.S. dollars, according to the United Nations COMTRADE database on international trade.
2017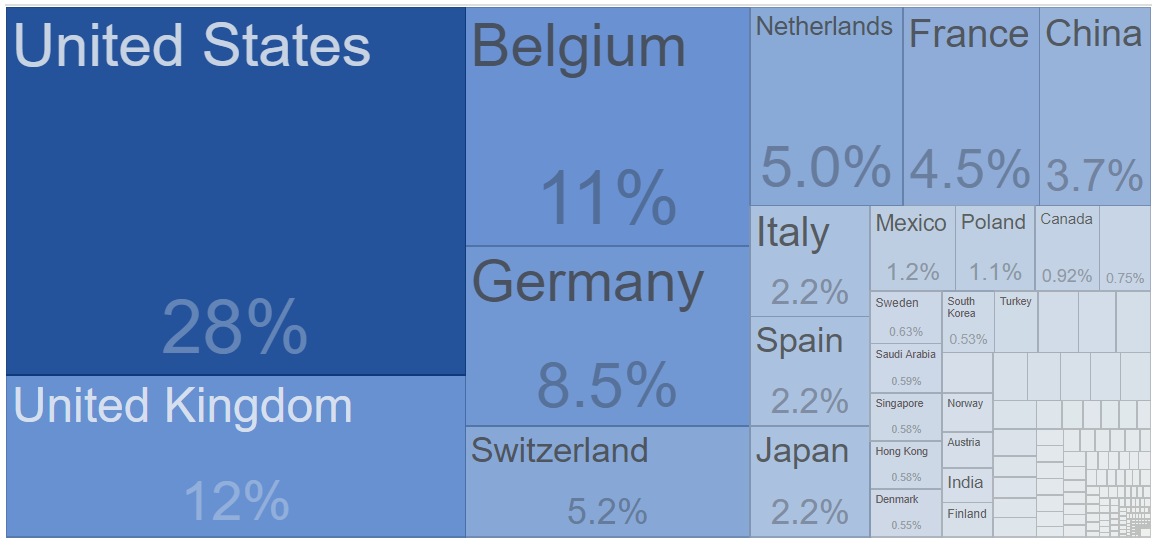 2016
Ireland Exports
In 2016 Ireland exported $160B, making it the 28th largest exporter in the world. During the last five years the exports of Ireland have increased at an annualized rate of 0.4%, from $154B in 2011 to $160B in 2016. The most recent exports are led by Packaged Medicaments which represent 17.3% of the total exports of Ireland, followed by Nitrogen Heterocyclic Compounds, which account for 12.8%.
2016

Ireland is the 28th largest export economy in the world. In 2016, Ireland exported $160B and imported $74.4B, resulting in a positive trade balance of $86.3B. In 2016 the GDP of Ireland was $304B and its GDP per capita was $71.5k.
The top exports of Ireland are Packaged Medicaments ($27.8B), Nitrogen Heterocyclic Compounds ($20.6B), Human or Animal Blood($16.8B), Scented Mixtures ($7.5B) and Sulfonamides ($6.75B), using the 1992 revision of the HS (Harmonized System) classification. Its top imports are Planes, Helicopters, and/or Spacecraft ($10.2B), Packaged Medicaments($2.94B), Cars ($2.83B), Computers ($2.74B) and Human or Animal Blood ($2.05B).
The top export destinations of Ireland are the United States ($41.2B), Belgium-Luxembourg($18.1B), the United Kingdom ($18B), Germany($12.7B) and Switzerland ($7.81B). The top import origins are the United Kingdom ($19B), the United States ($12.3B), Germany ($7.67B), France ($6.27B) and China ($4.24B).
2017
2017
Ireland's Top 10 Exports
The following export product groups represent the highest dollar value in Irish global shipments during 2017. Also shown is the percentage share each export category represents in terms of overall exports from Ireland.
At the more granular four-digit Harmonized Tariff System code level, Ireland's most valuable exported product is drugs and medicines used for therapeutic or prophylactic purposes.
Pharmaceuticals: US$38.2 billion (28.3% of total exports)
Organic chemicals: $23.8 billion (17.7%)
Optical, technical, medical apparatus: $13.8 billion (10.2%)
Electrical machinery, equipment: $9 billion (6.7%)
Perfumes, cosmetics: $8.4 billion (6.2%)
Machinery including computers: $7.4 billion (5.5%)
Aircraft, spacecraft: $4.8 billion (3.5%)
Other chemical goods: $3.7 billion (2.8%)
Meat: $3.5 billion (2.6%)
Dairy, eggs, honey: $2.7 billion (2%)
Ireland's top 10 exports accounted for 85.4% of the overall value of its global shipments.
Dairy, eggs and honey was the fastest-growing among Ireland's top 10 export categories, up 40.1% in value from 2016 to 2017.
In second place for improving export sales were pharmaceuticals which gained 20.1%.
Ireland's deliveries of aircraft and spacecraft posted the third-fastest acceleration in value (up 16.4%), followed by exported meat (up 9.3%).
Leading the decliners were organic chemicals via a -14% setback year over year, trailed by the -8% fall for exported electrical machinery and equipment.
Note that the results listed above are at the categorized two-digit Harmonized Tariff System (HTS) code level. For a more granular view of exported goods at the four-digit HTS code level, see the section Searchable List of Ireland's Most Valuable Export Products further down below.