Lithuania Exports By Country
This page displays a table with Lithuania Exports By Country in U.S. dollars, according to the United Nations COMTRADE database on international trade.
2017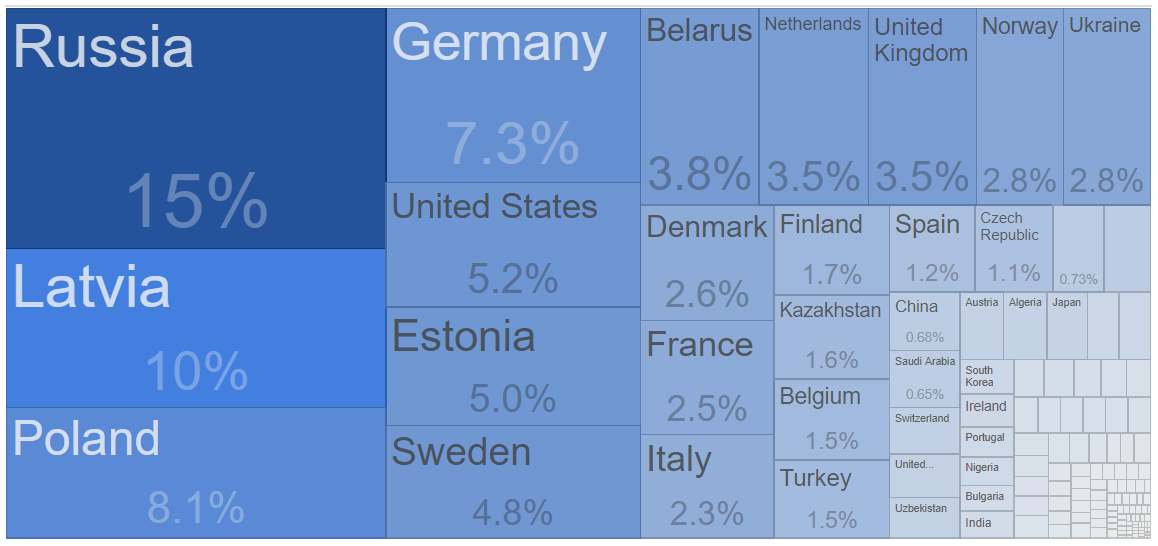 2016
In 2016 Lithuania exported $22.1B, making it the 68th largest exporter in the world. During the last five years the exports of Lithuania have decreased at an annualized rate of -2.9%, from $25.9B in 2011 to $22.1B in 2016. The most recent exports are led by Refined Petroleumwhich represent 13.6% of the total exports of Lithuania, followed by Other Furniture, which account for 4.98%.
Lithuania Exports
2016

2016
Lithuania is the 68th largest export economy in the world. In 2016, Lithuania exported $22.1B and imported $26.7B, resulting in a negative trade balance of $4.6B. In 2016 the GDP of Lithuania was $42.8B and its GDP per capita was $29.9k.
The top exports of Lithuania are Refined Petroleum ($3.01B), Other Furniture ($1.1B), Rolled Tobacco ($777M), Wheat ($649M) and Polyacetals ($430M), using the 1992 revision of the HS (Harmonized System) classification. Its top imports are Crude Petroleum ($2.45B), Cars($953M), Refined Petroleum ($896M), Packaged Medicaments ($888M) and Tractors ($633M).
The top export destinations of Lithuania are Latvia ($2.14B), Russia ($2.06B), Germany($1.75B), Poland ($1.39B) and the United States($1.23B). The top import origins are Russia($3.59B), Germany ($3.32B), Poland ($2.74B), Latvia ($2.07B) and Italy ($1.4B).
Lithuania borders Belarus, Latvia, Poland and Russia by land and Sweden by sea.
2017